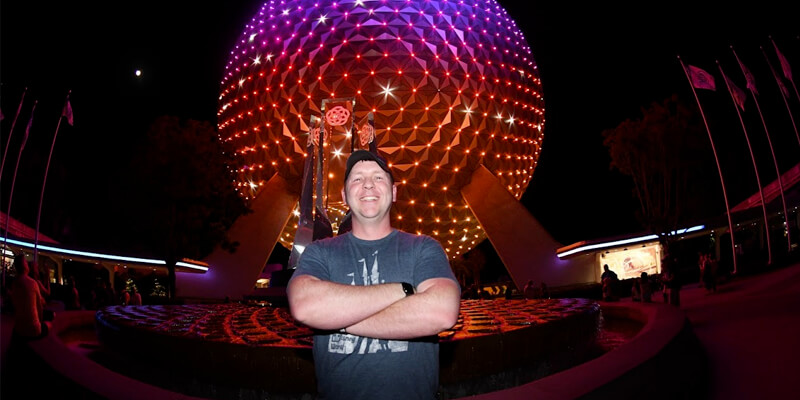 Eric Hersey Disney Enthusiast
Eric Hersey has been watching Disney movies and television specials since he was young. In 2014, Eric became interested in Disney Theme Parks after his first on-property stay. Since Eric has built a personal brand that is linked with Disney theme parks and themed entertainment.
Walt Disney World
Eric's first trip to Walt Disney World came when he was an adult (age 26). Vacationing with his in-laws, the family took a day trip to the Magic Kingdom, driving from the resort in Daytona Beach. Although this trip was enjoyable, it felt more like a trip to Kennywood (a local Pittsburgh theme park). When he returned and visited more than just the Magic Kingdom, he understand the immensity and magic associated with Walt Disney World.
Eric and his family visit Walt Disney World several times per year and have logged over 25+ trips in the last ten years. Eric is an annual passholder and DVC member. Eric has stayed or visited nearly all 30+ resorts at Walt Disney World. Eric has been able to experience the parks with an infant, toddler, teenager, senior, and alone. For being a resident of Wheeling, West Virginia, Eric treats Walt Disney World like a local.
Disney Movies & Television
Some of Eric's best memories as a child involve The Disney Channel. This paid channel was one of the few luxuries he had as a child. The introduction to the Sunday movie (flying past Spaceship Earth or seeing the Main Street Electrical Parade) brings back nostalgic feelings to this day. Michael Eisner was Eric's Walt Disney, remembering many of his cameos and promotions.
Besides catching early episodes of Dumbo's Circus or Pooh's Corner, Eric grew up on the classic Disney films. Eric's first memory of a movie theatre was watching Snow White and the Seven Dwarfs. Eric's father, Bill, was a VCR repairman and he would often dub classic movies for future viewing.
Eric tended to enjoy the obscure, with his favorite Disney film being Bedknobs and Broomsticks. Darby O'Gill and the Little People and The Gnome-Mobile were in constant rotation during the early 90s.
Before Disney+, Eric attempted to gather DVDs of all of the classic films for his children. Before their first trip in 2015, he and his children watched all of the classic animated films leading up to the arrival date.
Eric and his family continue to support and watch the latest Disney projects. If they are going to the theatre, odds are it's the newest Pixar or Disney film.
Star Wars
Todd Hersey, Eric's older brother, was born at the perfect time and is your quintessential Star Wars fan. Todd saw the original films in the theatre and was part of the action figure mania in the 1970s. This influence allowed Eric to become a Star Wars fan and benefit from Todd's hand-me-downs.
Eric played with the original Kenner Star Wars toys before actually ever seeing a film. Boba Fett would be an early favorite, but Eric would also find fondness with Ewoks and the creatures aligned with Jabba the Hut.
Eric recalls watching the films on VHS while sitting in his homemade forts. Return of the Jedi was his favorite, mostly for the same reason he enjoyed the Kenner toys.
Eric would witness the Special Editions in the mid-90s and was able to watch all three original films in theatres. In 1999, Eric would watch Episode I with his father, which would turn out to be the last movie they watched together. Bill passed away in 2000.
Through the years, Eric stayed connected with Star Wars and followed the series. He frequently visited the Star Wars website, when websites were becoming more accessible, to read up on the different aliens and creatures. He would take his future brother-in-law to see Episode III in theatres.
When the newest Star Wars saga came out, he was able to enjoy this with his children. This would renew his energy and love for the franchise.
He would later talk about Star Wars quite frequently as a co-host of the TodCast PodCast, with his brother Todd. Todd and Eric would review old and new Star Wars films in episodes they called "Spoiling Star Wars".
Marvel
Again, Eric's older brother Todd had a lot to do with Eric's early interest in comics and Marvel properties. Todd was a comic book collector so Eric would get to look at comics from time to time. Todd would take Eric to comic stores occasionally, allowing Eric to purchase trading cards – some of them being Marvel.
The X-Men Animated Series was popular when Eric was a grade schooler. Eric received his first comic as a giveaway from Pizza Hut – along with a VHS tape of the first episode of X-Men. Eric would continue to follow Marvel over the years, watching other animated cartoons and eventually watching the early Spider-Man movies with Tobey Mcguire.
Although Eric wasn't an early adopter of the MCU, he jumped on board and was hooked when he saw The Avengers in 3D during a business trip in Chicago. Eric was able to secure the DVDs of all of the early films and has not missed one since. Eric binged watched nearly all of the Netflix Marvel shows while rocking his infant child to sleep for midday naps.
Eric has bonded with his oldest son and daughter over Marvel films. It's appointment television when a new series drops on Disney+ or a new film comes out in theatres. Eric will often pull the children to watch an early showing so they can avoid spoilers.
Eric Hersey Digital Marketer
Eric Hersey is the owner of Eric Hersey Web Design and Strong Minded Agency – an advertising agency in Wheeling, West Virginia. Eric started his web design company in 2019 but has been making websites since 1999. Eric's ability to turn his hobby into his career has allowed him to work with individuals in the entertainment industry, including several Disney influencers.
Eric Hersey Web Design's unique selling proposition is often linked to his ability to use the right and left sides of his brain (creative and analytical). Just like a website is full of design and development, Eric's attraction to Disney is often linked to the same reason he loves websites.
Eric has been fascinated with Imagineers and construction of the theme parks. Eric sees many similarities when it comes to theme parks and web design.  He often quotes Walt Disney during sales meetings and has "blue sky meetings" when he and his team need to brainstorm.
Eric's analytical side, which helps him create SEO plans for clients, is another reason he loves the planning process of a Disney vacation. Inspired by data scientists like Len Testa, Touringplans.com, Eric has created several long-term projects associated with documenting and outlining the Disney Theme Parks.
Eric Hersey Web Design works with Disney Historian and Themed Entertainment writer Jim Hill. Eric partnered with Jim Hill Media in 2021 and helped with a site relaunch and ongoing maintenance for JimHillMedia.com.
Eric Hersey and his team at Strong Minded Agency have several big projects that are associated with themed entertainment rolling out over the next few years.