Length: Single Day Trip
Location: Off-Property
Party Size: 6 (53, 53, 23, 23, 21, 4)
Date: May 19, 2010
Park/Resort: Magic Kingdom
Time: Open to Close
I figure the first post to Dis & Hers should be documenting my first ever experience going to Walt Disney World. Who would have thought that years later I would be such a huge Disney Parks fan? Especially since I wasn't overly impressed.
Vacation Background
For years my wife's family would take a beach vacation. Sometimes it was Myrtle Beach and others Daytona. I've gone on several of these vacations. This year they planned on going to Daytona.
My son was three and my wife was only a few months away from giving birth to my daughter. It made sense to schedule a trip to Walt Disney World while in Florida.
Lauren's parents would often stop off at the Magic Kingdom and Epcot for single-day trips in the '90s. This scheduled visit would be no different than how they normally did it.
Wake up super early. Drive to WDW. Buy tickets at the gate. Spend the day. Travel back to the hotel.
A day at Walt Disney World seemed like a normal trip to Kennywood. That's how it originally felt.
We flew down to Florida Southwest. The family rented a van and everyone lounged at the beach. Halfway through the trip, we scheduled our visit to Walt Disney World.
First time in the Bubble
We woke up pretty early. Daytona Beach is a little over an hour away. Although it isn't super clear, I imagine we tried to rope drop the Magic Kingdom. I distinctly remember purchasing a ticket at a booth. My guess was at the TTC (ticket and transportation center). We obviously parked, but I don't remember the exact details.
I do remember going across the Seven Seas Lagoon on the Ferry boat. Walt was correct. The entire process really made you think you were traveling to a new world. Modern Eric is super annoyed by this process, but it seemed special the first time.
We made it to the Magic Kingdom and I don't remember much about the entrance. There weren't MagicBands or security, so it was probably a pretty seamless operation. We stopped off at the train station and rented a classic brown stroller for my son.
Main Street USA
Truth be told, my favorite part of the park today was not something that caused a huge first impression. I don't remember much about walking down Main Street USA. I do, however, remember the great reveal of Cinderella Castle. We walked down the right side and turned past the Confectionary to get our first glimpse.
The next thing I remember was being at the hub and hearing some loud music playing throughout the park. Yes, it was time for the Move It. Shake It. Parade.
We brought a little camcorder with us and we managed to film a lot of the parade. This was my son's first glimpse at Mickey Mouse. He seemed intrigued but wasn't overly excited. Unfortunately, the footage of the parade was the last we got at Walt Disney World. The camcorder malfunctioned and we never pulled it back out.
We managed to get some pictures at the Partners statue and in front of the castle.
Fantasyland Blur
SPOILER ALERT: we never make it to Adventureland, Frontierland, and most of Liberty Square.
After the parade, we must have headed to Fantasyland. At this time, construction was going on for the New Fantasyland expansion. I remember seeing some go-away green walls around the park.
The details are vague and the order is unknown, but I either have memories or photo evidence that we experienced the following attractions:
it's a small world
Prince Charming's Carousel
Peter Pans Flight
Snow Whites Scary Adventure
Dumbo
Mickeys Philharmagic
Winnie the Pooh
Mad Hatter Tea Party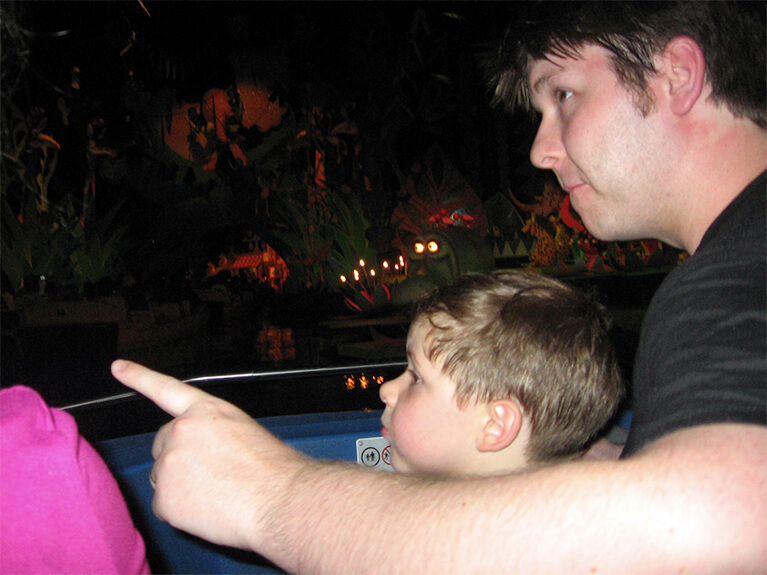 Dumbo and Peter Pan have exceptionally long lines. I don't think there were wait times posted and if so, we must have not cared. Dumbo was in the original location and I remember being able to peak over the green walls to see construction.
I don't remember Snow White at all – but found a BlackBerry video showing Hunter and I briefly on the ride.
Mickeys Philharmagic was memorable. This was the first real 3D experience I remember. Having water shoot out at us and the air cannons were impressive. I remember it starting my son and overall thought the experience was great. Oh, how nice it would be to try things for the first time again.
Lunch in Liberty Square
After going through Fantasyland, we stopped off at the Columbia Harbour House. I remember waiting in line but not much more. We finished lunch and head over for a ride on the Liberty Square Riverboat.
Mickeys Toontown Fair
After our brief stop in Liberty Square, we wanted to go meet Mickey. We felt he should Be wearing Mickey Ears, so we stopped at a cart and got him his first Mouse Hat. He had a choice and he wanted pink ones. We settled for ears with Pink – not all pink.
I don't remember doing much in Toontown but we for sure went through Mickey's house. I also think we went to Minnie's. It seems like we went to a playground (maybe Donald's).
The longest and most vivid memory came to waiting to meet Mickey and Minnie. I remember going through a tent and being able to watch classic cartoons. We waited for quite some time and finally went to a room to meet Mickey. 
Tomorrowland
It's tough to remember what time of day we went from section to section. We have images of us in front of the castle at dawn (near Cosmic Rays), so I imagine we ate dinner and headed to Tomorrowland.
I know we experienced Stitches Great Escape and Monsters Inc. Laugh Floor. I imagine we did the TTA PeopleMover (I have the slightest memory of wearing Hunters ears while riding). We probably also went on Buzz Lightyears, but I don't have any definite memory or photo to prove.
Monsters Inc. was enjoyable. Lauren's dad was selected as Mike in the "story". Hunter got a kick out of this. I thought the technology was amazing. The first time at Monsters Inc. has to always be the best.
At some point, we bought Hunter an expensive Mickey Balloon.
Fireworks and Water Pageant
I can't imagine we knew where to stand or how long we should wait for a good spot of Wishes! (the fireworks). We stood near Casey's for a while and my son alerted us he had to use the bathroom. We were potty training at the time and this was a wonderful moment. (TMI: he went #2 for the first time in the bathrooms near the Baby Center). Right before the fireworks started, he rejoined us and we made our way to the middle of Main Street.
My brother-in-law hoisted Hunter up for the majority of the fireworks. We were probably halfway down the street, maybe in front of the Main Street Bakery. It was a good fireworks show, but I was never super impressed by any fireworks show.
We rushed out with the rest of the crowd when the fireworks ended. We made it back to the Ferry. I have photo evidence of us standing around on the ferry. It must not have been a busy night because we seemed to have plenty of space to ourselves. My highlight of the ride back to the TTC was seeing the Sea Serpent from the Electrical Water Pageant passing by.
We rode a tram back to the van and went on our way. The trip back took longer than expected due to an accident on the highway. It was a very long day.
Final Thoughts
Although I could tell there was something magical about Walt Disney World, it didn't quite get me hooked (like what happens in 2014). The park was clean, there was plenty to do, and my son enjoyed it. Overall I had a great time – but didn't NEED to go back in a year.
Trip Highlights
The big reveal of Cinderella Castle from Main Street USA.
(Now) Being able to look back and know I rode some extinct attractions in 2010 (Snow White's Scary Adventure and Dumbo in Fantasyland).
Trip Fails
The long wait for Dumbo.
Missing out on what would be my favorite attractions (Haunted Mansion and Enchanted Tiki Room)
Trip Report Disclaimer
This article is a trip report reviewing events, images, videos, and details from a previous Walt Disney World vacation. There will be snippets of data that you may find helpful, but this is a post aimed to review a specific moment in time and act as a personal journal.