Oh, how our family loves the experience of staying at Disney Resorts! As proud DVC members, we've experienced countless Disney resort-hopping trips, and each property has its own unique charm. But this trip? It was extra special! On this unique vacation, we explored four remarkable Disney properties – Disney's Saratoga Springs Resort, Disney's Old Key West Resort, Disney's Hilton Head Resort, and the coastal gem that is Disney's Vero Beach Resort. Saying that we enjoyed every single magical moment would be an understatement. Now, I'm thrilled to share the highlights of our experience at Disney's Vero Beach Resort, a place that perfectly merges Disney's magic with a serene beach retreat.
Arriving over Memorial Day weekend we were greeted by a new addition: a topiary shaped as Tick Tock Croc. It was the perfect backdrop for those all-important family photos. Adding to the festive vibes, the resort's dedicated cast members were sporting their patriotic Memorial Day outfits, making our arrival even more special. And a special shout-out to Nico, who turned the routine check-in into a delightful experience, setting a friendly and welcoming tone for our stay.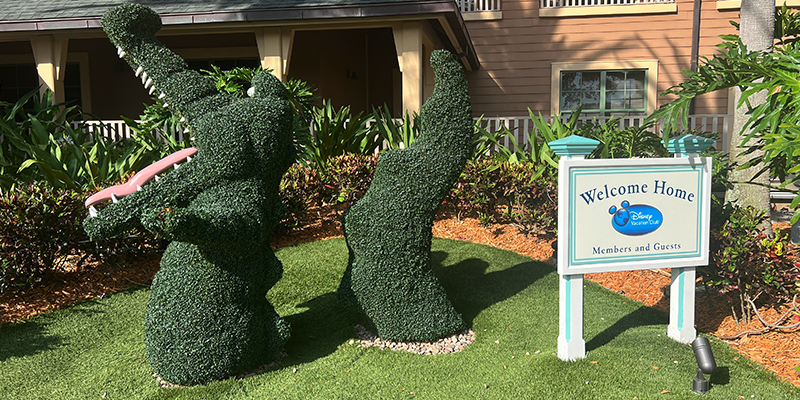 We were delighted when the resort made our room available right away, setting the tone for our seamless stay. As the family swapped their travel clothes for swimwear, I decided to enjoy some much-needed "me time". I visited the on-site spa for an indulging pedicure session that ranks among the best I've ever experienced. This relaxing treatment left me feeling relaxed and ready to conquer the rest of our trip with my freshly painted white toes.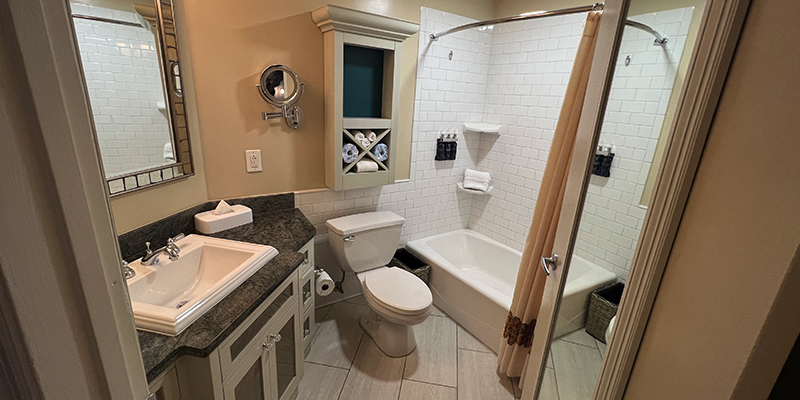 During this trip, we stayed in a deluxe studio located in Building 4. This welcoming space provided all the comforts of home with that unique Disney magic we've come to love so much. With convenient parking available in the underground garage, it was easy to navigate the way to our room. Our space had a really nice view that looked out over the pool area and mini golf course. We were pleased to find both a laundry facility and vending machines situated on the ground level of our building. This was incredibly convenient seeing that we just came from Disney World and needed to spend some time doing laundry.
Disney's Vero Beach Resort offers two primary dining options, including a quick service and a sit-down restaurant where we enjoyed our first meal of the trip. Even a minor tantrum from our youngest, Miles, was quickly forgotten thanks to the delightful server and deliciously prepared meal.
In the spirit of good old family fun, we decided to play a round of mini golf by the pool. This activity, offered free of charge by the resort, turned out to be the perfect evening activity for our family. We wrapped up our first night around a cozy campfire, roasting marshmallows and creating unforgettable memories singing silly camp songs and bonus points for the free s'mores.
Day Two was all about fun and relaxation for us. With an early start, Eric and I grabbed some much-needed coffee before starting our day. We noticed families had started to stake out their territory by the pool, so we quickly snagged a prime table and beach chairs to ensure we were well-set for the day.
As the caffeine set in, I made the spontaneous decision to sign up for a morning yoga class at Ebb and Flows. What a choice that turned out to be! Joining a small group on the resort's front lawn, I spent a rejuvenating hour stretching and relaxing in the morning sun. If you're looking for some serenity during your stay, I wholeheartedly recommend giving it a try (remember to take an extra towel because you will sweat).
Once the kids rolled out of bed we headed to the beach where the cabana and beach chairs were waiting for us that we rented the night before. The resort had us covered with complimentary sand buckets and tools for building sandcastles, much to the delight of the kids. During our time at the beach, we noticed an unusual guest – the Sargassum (5,000 mile long seaweed blob). This large species of brown seaweed had just started to accumulate on the shoreline. Though it wasn't pretty, it did not impact our trip to the beach.
Taking a breather from the water, the kids were excited to try some of the resort's activities for the day. First up was a fun tie-dye session, where the kids got to create their very own Mickey shirts. Lainee, ever the competitive spirit, joined in on water slide race, and even won second place. As the day unfolded, we enjoyed a DJ, pool activities and some good old fashioned Disney trivia.
Pro-tip: Visitors to Disney's Vero Beach Resort can take advantage of the refillable cups at the poolside quick-service location. For about $20, these cups offer unlimited refills throughout your stay.
Post-dinner, we discovered an awesome surprise. Disney's Vero Beach Resort encourages guests to participate in pin trading, a popular Disney tradition, at four different spots around the property. Miles, our youngest, was particularly thrilled with this find. Having just been introduced to the fun of pin trading during our recent park visits, he was eager to expand his collection.
During our downtime, Eric and Miles spent enjoyable hours in the resort's game room. The wide range of video games kept them entertained.
In short, Disney's Vero Beach Resort offers loads of activities, dining options, and relaxing amenities, perfect for families seeking a fun-filled vacation. From creating unique tie-dye masterpieces to collecting one-of-a-kind Disney pins, every moment spent at the resort promises magical memories and unforgettable experiences.
Our magical journey continues onto Disney's Old Key West Resort and then Disney Hilton Head resort so stay tuned for more of our Disney adventures!