I've been associated with the Candy Bar King for my entire life. Friends, teachers, co-workers, clients all add that second H in my last name. You grow to accept it.
When my kids were asked to make a bucket list of potential places to visit this summer, Hersheypark was at the top of both of their lists.
Why Hersheypark? We've never discussed it as a family. It's not advertised locally. How do they even know about Hershey, Pennslyvania?
Oh, that's right – we get asked all of the time if we've ever been to Hershey, PA. Seems to be a common trend for Herseys growing up in the 90s and Herseys growing up in the 20s.
Our last name triggers people to think about candy, chocolate, and a city that is a little over a four-hour drive from Wheeling, West Virginia.
Booking a Hotel in Hershey
I did ZERO planning for this trip. This was a Lauren trip. She booked the hotel(s). Yes, she ended up booking a hotel, canceling the hotel, booking another, canceling another, and finally landed on a Fairfield Inn and Suites. From the sounds of it, The Hotel Hershey was slightly out of the price range we were comfortable spending. One hotel was too far away from the park (Harrisburg, PA). The second canceled hotel had good reviews on one directory and awful reviews on another one. We opted to find a hotel that was closer and had better reviews.
For our two-night stay, the Fairfield Inn and Suites did its job. There was an advertised indoor pool, but it was packed with 10 families on a Friday night and I decided that we would get our water action at Hersheypark.
The breakfast was complimentary. We missed the first-morning breakfast due to my ignorance. I guess it ends at 10:00 AM and not 11:00 AM. Oh well.
The next day we received our breakfast, which was a mixture of boxed cereals, breakfast sandwiches, and random fruits. It was free, so I'm not complaining. It wasn't your traditional buffet – which can be expected since we are still dealing with COVID.
The location was good. It was minutes away from Chocolate Avenue – the main downtown street next to the park. Parking was spacious and easy. It took less than 5-minutes to get back from the park at night.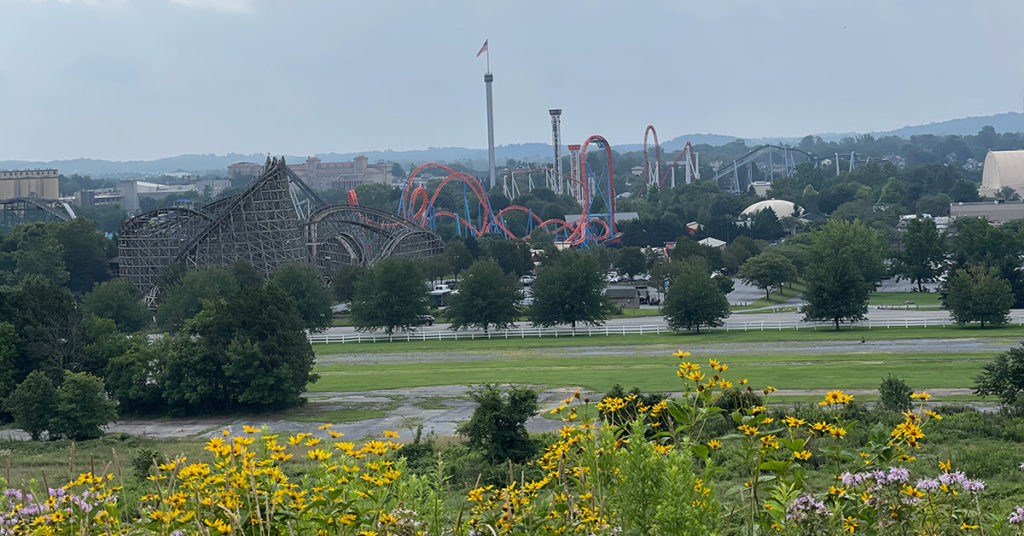 Hersheypark – Theme Park and Attractions
I visited Hersheypark once. It was in the early 2000s and I don't remember much. The only attraction I recalled was the Wild Mouse. Legit – I was at the park all day as a 16-year-old and only remembered one attraction. I either have an awful memory or the park wasn't that impressive in 2001.
I decided to forgo any research and witness the park in real-time. We didn't watch any POV ride videos on YouTube. I didn't read any blogs or find any Must Do listicles. I really didn't know what to expect.
The family and I arrived at the park open on a Friday morning. We drove from Wheeling to Hershey and made nearly perfect time. Parking was easy (although I hate paying $20). They offered premiere for $35 and I turned it down. Thankfully I did because it wasn't much closer. We had to walk through the parking lot, around the Chocolate World "factory" and landed in a giant queue to enter the park.
Day two and three had us parking a lot closer by going through the Chocolate World gate. The price was the same and it was even closer than the premiere parking.
Entering Hersheypark
The lines were smooth on Friday and pretty rough on Saturday. As expected, a mass of humanity tries to squeeze through six to eight gates. The attendants are trying to scan your tickets and send you through the metal detectors. You might be pushed to the side and your bags checked.
Lauren is a specialist at working her way to the front of the lines. She would find the shortest line and work her way to the front. It was not fun with a stroller, but once we were in the park could separate from the cattle call.
Rollercoasters and Rides
We decided to do all of the major rides on Friday. The park didn't seem overly busy – although we wouldn't know the difference on our first day. Thankfully we did because Saturday was miserable and wait times seemed ridiculous.
Hersheypark has over a dozen thrill ride coasters and our son managed to do about half. There were a few coasters that were less than 15-minute waits. He did get stuck in a line for over an hour for the big 90-degree drop coaster. The Hersheypark App seemed relatively accurate with their wait times.
I managed to ride a few of the coasters. I enjoy a nice wooden throwback rollercoaster. The Wildcat seemed a bit crazier than any Kennywood wooden coaster. Unfortunately, I didn't get to experience the other wooden coasters.
We did several kiddie rides for our 4-year-old. I enjoyed their Monorail that seemed like a Hersheypark People Mover. This short ride gave us an aerial view and narration about sections and attractions that can be found in the park.
The best and most Disney attraction was the Reese Cup themed Reese's Cupfusion. We waited around 40-minutes on Friday afternoon to experience this family attraction. Much like Buzz Lightyear's Spaceranger spin, you were shooting lasers at objects during the ride and earning a score. Each room had a special candy scent that made this attraction extra special.
I could recommend Hersheypark for families, but I wouldn't say this is a park where you can experience all of the attractions together. There are a ton of rides for youth and adults, but few that would allow a 4-year-old, 14-year-old, and a 38-year-old can do together.
Food and Snacks
It didn't take me long to realize that they had a pretty good deal on soda. For $17 you received a refillable cup and could load up on soda all day. Since individual cups were $5, it was a no-brainer for us to purchase this each day. They had stations set up all over the park and you just scanned the code on the cup and it would allow you to fill up 32oz at a time.
There were plenty of little stands and places to eat. On Friday evening, we made our way to the front of the park and went to their signature restaurant – The Chocolatier. The aesthetics of this restaurant was pretty fantastic. They used old attraction vehicles as tabletops and seating areas.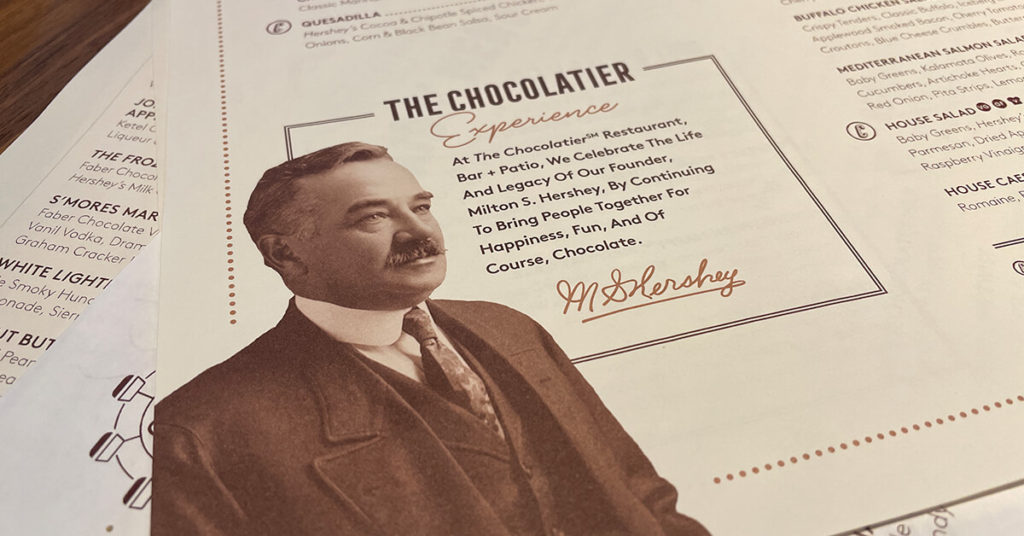 I won't put the restaurant on blast, but it was a pretty awful experience. We waited for an hour to get seated (which was expected). We shopped downstairs in the major merchandise store. Our poor experience happened after we were seated. Regardless of the reason, we ended up waiting over an hour to get our food – and it wasn't accurate – or fresh.
Although the meal ended up being comped because of such a poor experience (we didn't ask – they offered), the experience left a bitter taste in my mouth. I would try it again because I truly think it was a problem with the server/kitchen and not that the restaurant is poorly managed.
Hersheypark – Waterpark
The kids might have been most excited about the waterpark. We decided to make this the first thing we did on Saturday morning. We hurried our way to The Shore, a wave pool experience in the very center of the park. We found our seats and reserved them for the day with towels and bags.
We decided that we wanted to get our first taste of getting wet by going on their massive water coaster. We waited for less than 10-minutes and plummeted down a massive drop. We were soaked. The wife and I swapped places and she witnessed the drop.
In less than one hour, the waterpark portion of the park (which is directly in the middle of Hersheypark) filled with people. There were waits to enter the Wave Pool and kid areas. The major waterslides had hour-long waits. People were everywhere. It became dangerous to even walk around (with a four-year-old). I couldn't wait to get out of there.
We decided to leave and go to the zoo – which is also located in the park. We hoped that the water area would slow down in the afternoon and we would return. We did return, but it never slowed.
No thanks on the waterpark again. I will stick to my dedicated waterparks at Walt Disney World.
Hunter, my 14-year-old, made the observation that since the tickets included the park and waterpark it was likely the reason why it was so packed on a Saturday afternoon. It was nearly 90 degrees. Why wouldn't you cool off and then ride rollercoasters later in the night?
Hersheypark – ZooAmerica
I was pretty excited to go to the zoo – and not just to get away from the people at the waterpark. ZooAmerica has an entrance located in the park. On our way, we stopped and watched a Sea Lion/Seal show. This 15-minute show had the animals doing little tricks for an audience of 100. I found this to be more exciting and entertaining than the Zoo we would soon enter.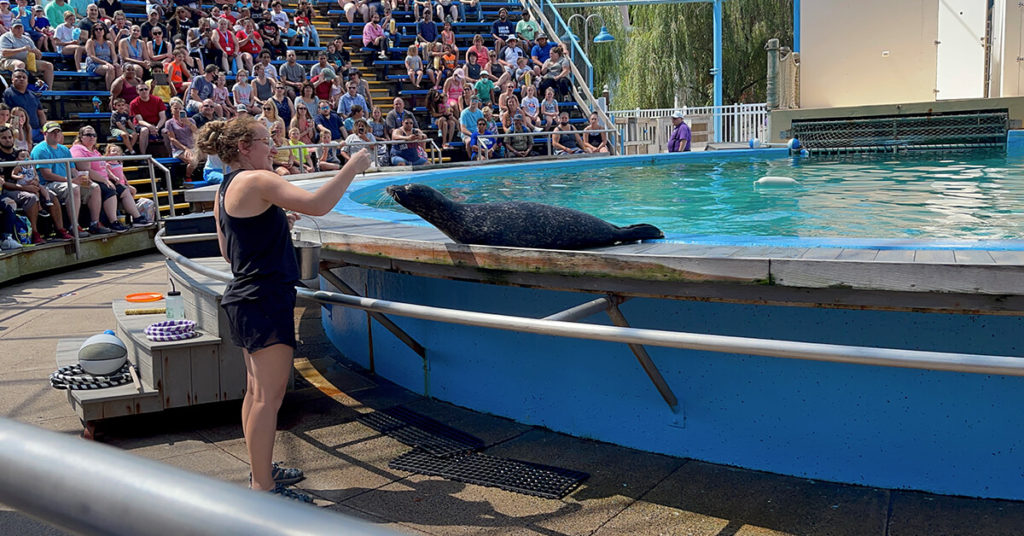 ZooAmerica was a nice little zoo that highlights North American animals. For this reason, it's probably not as exciting as some other large city zoos. There were no lions, tigers, or bears – strike that. There were bears…and actually pretty cool.
The zoo didn't seem very large. We walked through in about an hour (or less). We stopped to look at some of the animals but nothing seemed overly impressive.
The zoo was included in the admission. For this reason, I wasn't upset that it was a bit underwhelming. I wouldn't want to spend an entire day or separate admission to the zoo.
Hershey's Chocolate World
We saw and conquered Hersheypark (or as much as I was willing to conquer). Sunday we made the day of visiting some of the attractions I was most looking forward to – including Hershey's Chocolate World.
I remember visiting and going through the simulated tour in the 2000s. I'm not sure if the actual tour or building changed, but the experience was pleasant. There were several attractions to witness and this seemed more Disney than anything else.
The main attraction was a tour where Hershey, Reese, and Kiss (animated characters) took you on an omnimover and showed you how they made their products.
Once we finished the ride, we paid for separate admission to a 4D show featuring the same animated characters. The movie was good enough. Since admission to Chocolate World and the tour ride was free, paying for this movie was perfectly fine.
There were several other experiences – like making your own custom chocolate bar and filling up a huge Reese cup. Both seemed slightly overpriced for a family of five. Instead, we purchased some amazing Hershey-inspired milkshakes.
We spent just over a few hours at Chocolate World and was well worth the time.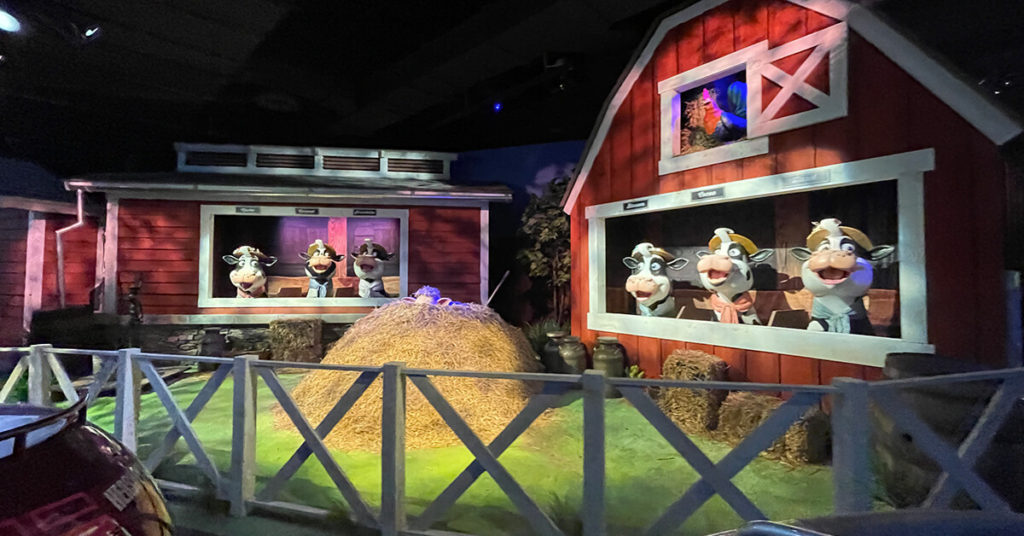 Hershey Gardens
I was least excited about walking around a garden of flowers, but I honestly enjoyed this more than the theme parks. Am I getting old?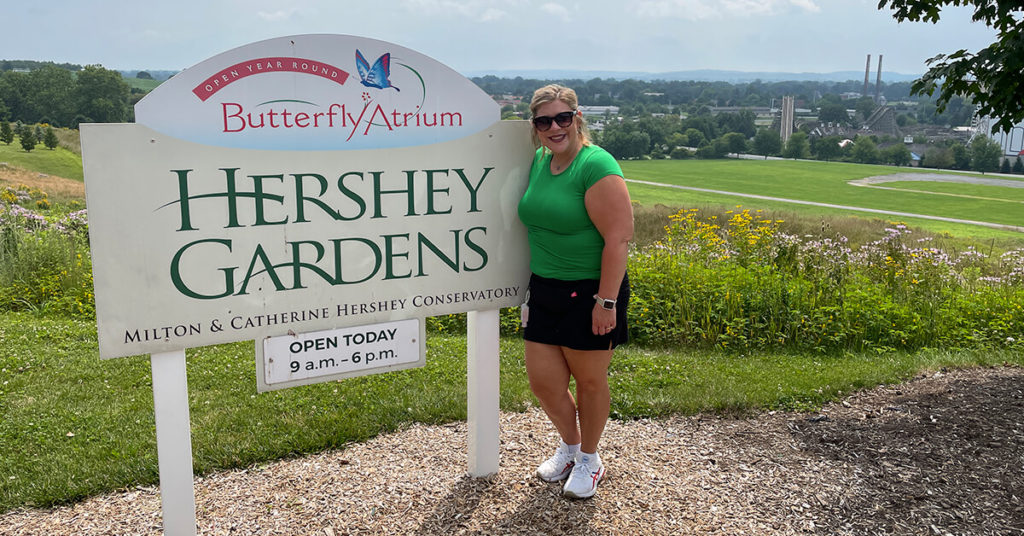 Overlooking the theme park, Hershey Gardens is a 23-acre botanical garden. Inside the air-conditioned lobby (it was a hot day), we purchased combo tickets for touring the gardens and visiting The Hershey Story (more on that later). Attached to the lobby was a Butterfly garden. The family entered but Miles (4-year-old) and I had to leave shortly after. He wasn't a fan of all of the flying creatures.
After everyone exited the Butterfly Atrium, we walked around the different gardens for the next hour and a half. I don't have a green thumb or even attempt to care about gardens – yet I was impressed by the layout and surroundings. This seemed like a calm nature walk as opposed to a museum of flowers.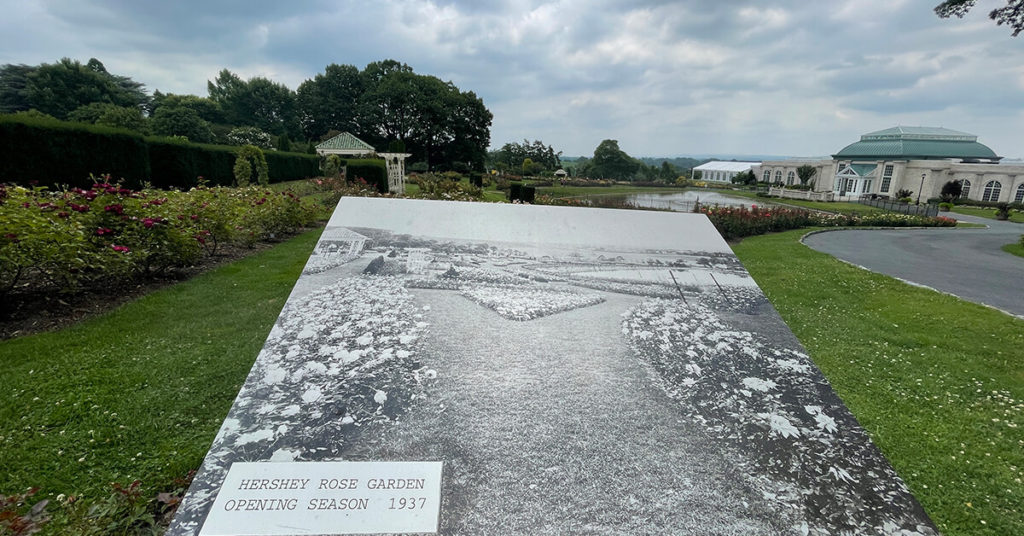 The Hershey Story Museum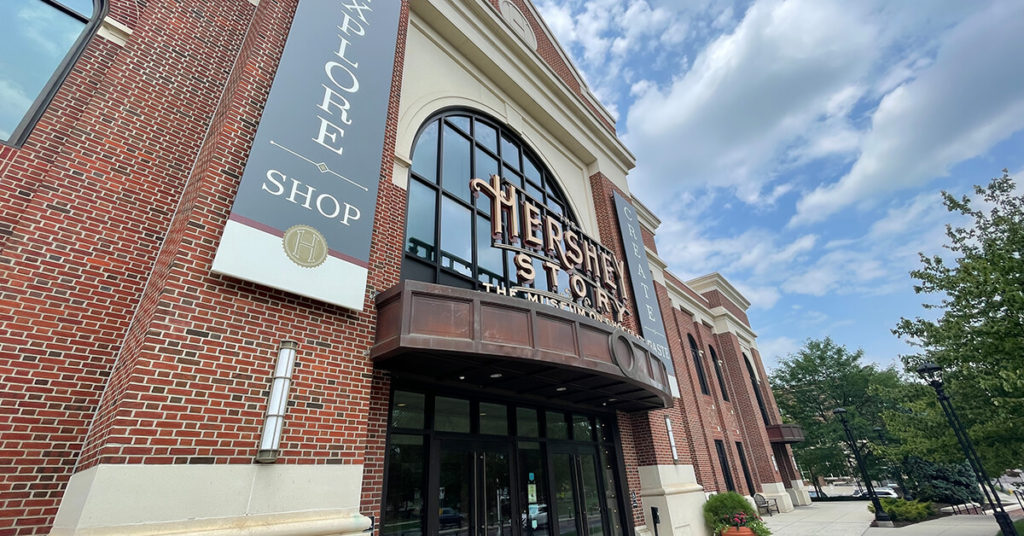 By far my favorite part of this 3-day weekend trip was the museum dedicated to Milton S. Hershey. Even though we are not related, I feel connected to the Hershey Corporation. This two-story museum was large enough to keep you occupied for an hour or more, plus there was a gift shop and a nice cafe located on the first floor.
The upper floor gave you the history of Milton Hershey, with interactive displays and short films. Milton shared a lot of characteristics with Walt Disney. I was more fascinated by the creation of the town of Hershey than the creation of his chocolate factory.
The kids and I designed our own digital candy wrappers, watched several short movies, and finished with a nice meal at the Cafe aMusee.
What Did The Herseys Think of Hershey?
When you are used to traveling 17-hours by car to Walt Disney World, the 4-hour drive to Hershey feels like your normal daily commute to work. We are spoiled when it comes to tickets and lodging. We have annual passes at WDW, so forking out $500+ on tickets for the family was a tough pill to swallow. Along with the increased price of lodging (limited inventory around Hershey), we found ourselves spending a bit more than we would have if we just went to Disney and stayed on vacation club points.
Even though we spent a little too much on a weekend trip, Hershey was an enjoyable experience. The weather was fantastic – sunny and dry. There was never a point where we felt like we did it all or became bored. Even with two full days in the park, we might have touched 50% of the attractions.
I'm not sure if Hershey would be worth a yearly visit. The museum, factory, and garden don't quite have a return factor as a theme park. If you love coasters and thrills, I could see you wanting to make Hersheypark a regular visit.
I imagine we will make this trip again as a family in the next five years. It will likely just be a Saturday-Sunday trip (or maybe mid-week so we can actually enjoy the water features).
We did finally mark off a bucket list item. Now when the kids are asked if they've been to Hershey, PA – they can say YES.