Not many fandoms rival my love for Walt Disney World.
Ever since my first on-property stay in 2014, I've been hooked. With 20+ week-long visits on the books, I am proud to say I'm a "top fan" (at least fans from West Virginia).
My ramp-up to super fandom happened quickly. It's difficult to think of any other hobby or leisure activity I enjoy more.
Enter All Elite Wrestling.
This startup rival to the WWE entered the scene in 2019. I was a late bloomer and didn't become a wrestling fan until 1993 (most kids my age entered in 1990 with Hulkamania). I attended my first live event in 1994 at the Civic Center in Wheeling, West Virginia. During the height of my fandom (93-05), I've attended over 20 televised WCW, WWF/WWE, and large one-off promotion events.
For Christmas 2020, I was gifted tickets to an AEW Dynamite taping in Cleveland, Ohio. It was the first wrestling event I was excited to attend in years.
We already had a planned vacation to Walt Disney World for the last week of May. It just so happens AEW was promoting a three-day super event. Friday night dynamite, Saturday fan fest, and Sunday Pay Per View (Double or Nothing). AEW was running weekly shows in Jacksonville during the entire pandemic. With the announcement that they would soon be touring, their days at Daily's Place would be numbered.
After listening to a hype podcast from Tony Khan, I felt it was necessary to take advantage of this moment and cancel a day at the parks and travel to Jacksonville.
Jacksonville Beach
We were not staying on Disney property this trip. My wife found an AirBnb/VRBO deal at Storey Lake – several miles away from Disney property. Even though we had paid for an entire week, I wasn't trying to travel 2.5 hours to and back to Jacksonville. I snatched up a Priceline deal at Best Western Oceanfront.
We would hit the beach for a few hours and then travel a half hour to the stadium.
My wife loves the beach. The Best Western was beachfront and only feet away from a beach access ramp.
We parked, attempted to check-in, and rented some chairs and an umbrella.
The room was nice, but we were paying for the location. It was a holiday weekend and I booked less than 24 hours in advance. There weren't many options. We spent roughly $300 for one night.
All Elite Wrestling at Daily's Place
The number one reason I avoid going to events is parking and the unknown.
Where do you park?
How much will it cost?
How far do you need to walk?
Sometimes you can find these answers, but often it's a mystery.
Maybe I've been traumatized too many times driving in Pittsburgh. One-way streets and stupid parking garages give me anxiety.
Luckily, this was the easiest experience I've ever had.
It was a straight shot from Jacksonville Beach (a half-hour drive). TIAA Stadium was right off of the highway and there were empty lots clearly marked. I pulled up to the attendant, ready to pay. He asked if I had a ticket and just pointed to a section to park. Free parking and no hassle.
We arrived pretty early (2 hours before showtime and an hour before entry). Shortly after, a line formed to get into the building.
We were directly positioned next to the wrestlers trailers and backstage entrance. Seeing some of the AEW stars walking from their cars to the entrance kept us occupied. Private Party even advanced towards the crowd and interacted for a few minutes.
We entered and headed directly to the merchandise stand. Thankfully we made the right decision because the line soon grew to a ridiculous length.
Next, we hit up the concessions and made it out quick. There were plenty of grab-and-go items (hot dogs, pretzels, popcorn, and drinks). We ate near the end zone in a special VIP section that was not blocked off.
We made our way to our seats.
AEW's Double or Nothing 2021
All of the AEW stars were out and the key matchups were on the card. The kids and I were excited to see stars Orange Cassidy, Chris Jericho, and Kenny Omega.
The venue seemed a bit smaller in person – which was great for us. We were closer to the ring than expected. There was a giant projector to highlight the action, but it wouldn't actually show the action while the matches were going on.
The crowd was loud and excited. As many fans know, the crowd can make an event. A loud, boisterous crowd can make an event seem like a Super Bowl. These fans traveled from all over to witness this event.
We talked to individuals from Boston, Fort Myers, and Chicago.
Excited fans tend to stand up. This was problematic for my daughter, who couldn't see at the conclusion of many of the matches. Without the projector screen in use, she had to maneuver her head around to see anything in the ring. Thankfully we were next to an aisle and I sent her to stand in the walkway to see some of the action.
Wrestling is subjective, but I truly feel this was the best wrestling show I've attended. The matches lived up to the hype. I was able to witness (and enjoy) my daughter's first live wrestling event. Both kids and I were chanting, smiling, laughing, and gasping throughout the night.
AEW made me want to come back.
One More Event – Friday Night Dynamite
Double or Nothing seemed to be a sell-out. They were going to be holding another live show on Friday.
At the end of the show, they invited us back with very lucrative ticket pricing. I considered it, but taking another day off from Disney (and getting another hotel) seemed a bit too much.
The next few days my family and I toured Magic Kingdom, Epcot, and Hollywood Studios. As I waited in line for several attractions, I kept thinking about the possibilities of Friday Night.
Pandemic Disney World
I'm in the very small minority. I'm an annual pass holder that doesn't live within driving distance of Walt Disney World. In a good year, we come down quarterly. Even though we visit frequently, we still do new things each trip.
We've yet to stay at all of the resorts. There are always new places to eat. We've done every attraction, but they always seem new after a few months off.
We are always able to plan a new and interesting trip by booking different restaurants and experiences.
At this moment, Disney had restrictions on many of the preplanning tools and activities. Since Disney hasn't opened up to full capacity, you have to get a park reservation just to enter a theme park (even if you have a ticket). In normal situations, you can go to whatever park you want. Unfortunately, if you want to go to Magic Kingdom on a Monday, you have to reserve Magic Kingdom on a Monday.
This isn't problematic if you are staying on property. Log in to the app and just reserve your trip.
Since we weren't staying at a Disney Resort, we could do three days. That's a little less planning than we like, but we can deal. The real problem comes into play with dining.
If you aren't a Disney regular, you might not realize that getting a dining reservation can be tough. Pre-COVID you had to book your dining reservations nearly six months in advance. Yes, if you want to eat dinner in the castle, you better be on the phone at 7 am 180 days before your trip. Although we are no longer at this extreme, restaurants have limited capacity. This also means limited reservations.
So if we wanted to eat at a restaurant at Hollywood Studios, we would need to get a dining reservation and also get the park reservation.
Although not impossible, it made it slightly harder to plan and schedule new experiences. Instead, we found ourselves eating at the same places and doing the same attractions.
When it came to our last day (Friday, June 4th), would I rather go to the park and do the same attractions and eat the same food or skip the parks and go watch AEW?
The Perfect Storm for Change
The kids were debating what they wanted to do with their souvenir money. They had it settled they would put their money together to get a Droid from Star Wars Galaxy's Edge. We walked over to the shop, just to find out you needed to schedule an appointment. I guess we will try next time.
It was time to make a decision.
I sent a text to Lauren (wife) and told her my plan. After some back and forth, she agreed to the plan and even said that her and my youngest would come check out AEW.
Some searching later, she booked a room at Jacksonville Beach in the new Margaritaville Hotel and I purchased 5 tickets to the Friday show. I did my best to get tickets with only a few heads in the way (row B). Hopefully, the shorties can see the action.
The kids agreed that their souvenir money would be well spent on the AEW tickets (even though we all know that money went right into AEW souvenirs).
Margaritaville Hotel Jacksonville Beach
I've heard of Margaritaville (and heard plenty Jimmy Buffet songs), but I've never really saw a Margaritaville up close.
From the moment we pulled in to the moment we checked out, my wife was in her tropical paradise.
If you would have told me this hotel was owned by Disney, I would believe it. The lobby, halls, rooms, and eateries were all themed (beach of course) and they were clean as clean could be. Even better, we arrived way early and our room was already ready.
We had a very small breakfast so we decided to eat at the Landshark Bar & Grill. I made the error of ordering for the family and didn't clarify that the burger, chicken nuggets, and cheeseburger were kids meals. The portions were huge and I soon realized I was going to be paying for five adult meals. It was the most expensive bill of the vacation.
The beach was only a few steps away. I rented a few chairs from the neighboring "beach chair attendant" and we sat on the beach for a few hours. After the beach, the kids hit up the pool.
After everyone cleaned up, it was time to take the family to Friday Night Dynamite.
Dynamite vs. Double or Nothing
The Double or Nothing Pay-Per-View saw a sell out crowd. I expected the same. Long lines for merchandise, shoulder-to-should seating, and a parking lot with limited openings. When I pulled into Gate 4 at Daily's Place, I could only find one spot. This was going to be another sell out.
Nope.
Turns out the stadium was holding a graduation ceremony for a nearby college.
Gate 1 was where we had to enter for wrestling. The family and I walked around the entire stadium to find 10-20 groups waiting in line.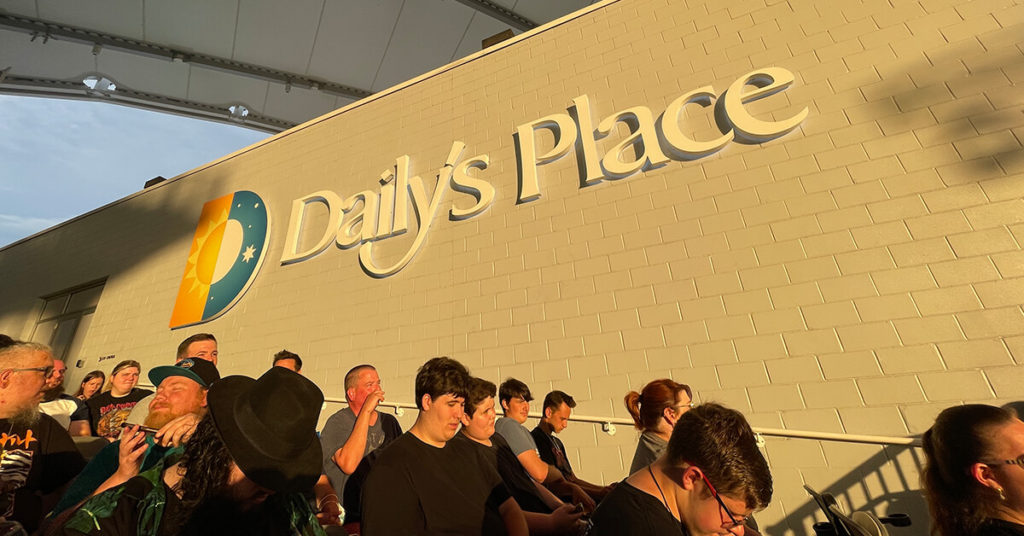 The crowd was respectable but nothing like a sellout.
We rushed to get in and get to the concession stand so we wouldn't have to wait in line. I was looking around for Pizza, chips, and other hot meals.
Not today. Since the crowd was projected to be smaller, all of the stands were closed.
We could get hot dogs, popcorn, pretzels, and nachos. So we did.
Dark Matches
For those unfamiliar with wrestling, Dark Matches are performed before the television taping. They get the crowd hyped up and give some of the less experienced performers a chance to get some exposure and ring time.
I had a feeling there was going to be an issue when I realized that Dynamite didn't start on television until 10:00 pm.
We arrived at 7:00 pm. The gates opened at 7:30 pm. The show started at 8:00 pm.
For two-hours we watched Dark matches.
This isn't a problem, except I brought a 4-year-old that didn't take the nap I expected him to.
He was cranky 30-minutes in. Thankfully we do come prepared and brought an iPad, headphones, and Lauren moved all the way to the back of the stadium.
Live on TNT
Dynamite started at 10:00 pm and it was a great event. Miles and Lauren came back to sit next to us – even though he watched his iPad the entire time.
It was fascinating (both Lauren and I agreed) to watch the live production aspect of it. We watched the cameramen, ring crew, referees, and performers after the cameras went off. It was a very nicely done show and you could tell they were the ultimate professionals.
We were just out of view from being on TV. We watched the show back later that week and there were several points where we thought we would be visible.
Even though we weren't on TV, Lainee had some great encounters. Referee Aubrey Edwards saw Lainee standing and waving her hands when Chris Jericho was giving away free t-shirts. Aubrey walked over and handed Lainee a shirt.
After the main event, Dustin Rhodes walked around and slapped hands with some fans. He came by Lainee, stopped and posed for a picture. This is a big deal for a 10-year-old fan.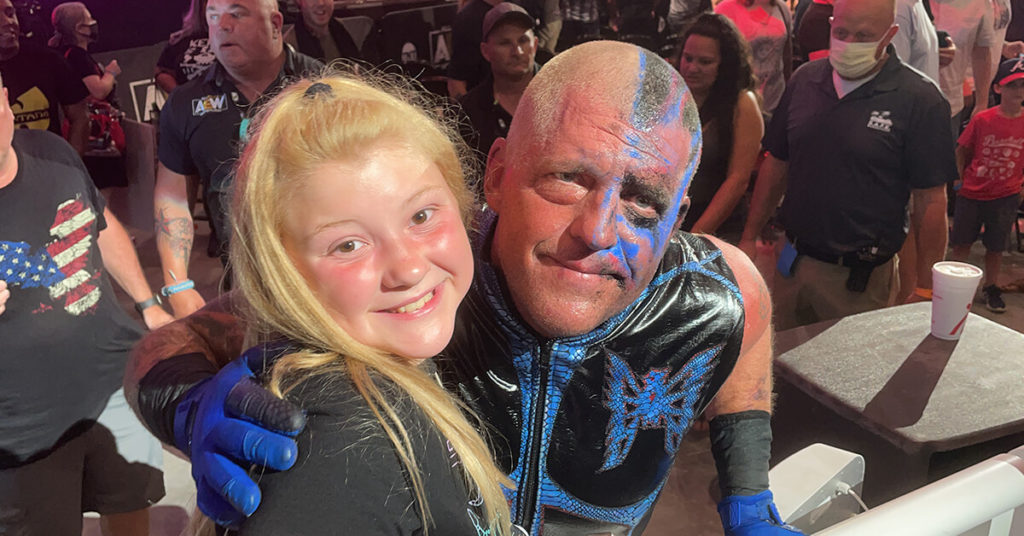 Since we parked on the opposite side of the building, I asked a guard the easiest way to get to Gate 4. He looked at me and realized I was holding a 40-pound, tired, child. He said – "come with me" and proceeded to escort us through the back.
As we were walking in the backstage area, we saw Dr. Luther and TNT Champion Miro. I whispered to Lainee – "look, it's Miro". She wasn't so quiet when she asked "where?". Miro stopped and flexed.
"How can you miss these?" as he showed his biceps.
We made it back to the car, back to Margaritaville, and the next day back to West Virginia.
Vacation Final Thoughts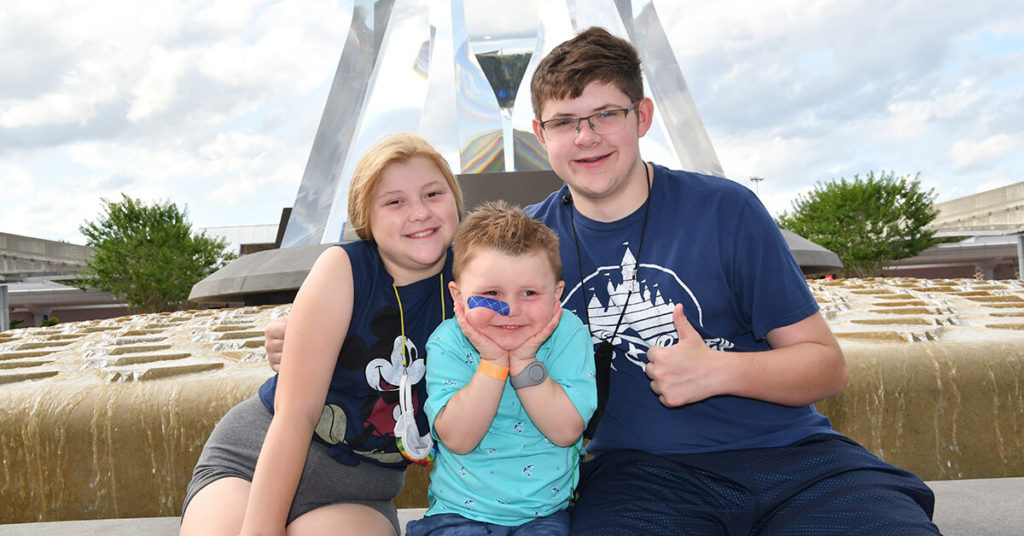 You won't find someone that enjoys Walt Disney World and the Magic Kingdom more than I. With that being said, there is a bit of enjoyment I get from planning new experiences. It's rare that you can find a place that you have the comfort of familiarity yet have the opportunity to be surprised by new offerings.
Even though this Disney trip had some new experiences (eating at Rose and Crown, rope dropping Epcot at International Gateway, and Miles riding Splash Mountain), it was more stressful with the limitations on park availability. If we stayed on property and had the trip planned well in advance, I imagine I wouldn't have spent the extra money on Friday to go to Jacksonville Beach and All Elite Wrestling.
This will be a one-of-a-kind trip. AEW is not going to be running shows in Jacksonville every week. Walt Disney World should open back up to a normal capacity and park reservations (hopefully) will disappear.
But don't think for a second that I'm not looking at AEW's future show calendar to see the next time they will be within driving distance to the World.