The Mandara Spa located at the Disney World Dolphin Hotel has been a real lifesaver since Disney's Senses Spa has been closed due to COVID-19. Because this spa is a new experience to some here are some things you definitely need to know before you go to the Mandara Spa.
Are You a Senses Spa Regular?
Who loves a spa? This girl!
I love Disney World too as long as I get a day or two on each trip to relax and enjoy the spas.
Our family visits Disney World roughly 4 times per year and I typically visit a spa twice per visit. I'm a bit of a spa connoisseur. My favorite services are massages, reflexology, and pedicures. Your feet will thank you after some long days at the park. With Senses Spa closed during the pandemic, Mandara Spa was the only option on the property. My first visit would have been more enjoyable if I knew what to expect. That's why I'm providing this handy list of things to know before you go! Being prepared can make or break the experience.
Booking Appointment at The Mandara Spa
It is WAY easier to book an appointment at the Mandara Spa than the Senses Spa at Disney.
You can book your appointment online. It's as simple as choosing the desired service and selecting the date and time. The website shows all of the available time slots and pricing. Also, at the end, you can request a therapist (more on this below). They send several email confirmations and Mandara Spa gives the option to add the appointment to your calendar.
Parking for the Mandara Spa
If driving to the Dolphin Hotel you'll need to grab a parking ticket. Don't let the $26 parking per day fee scare you. Just take your ticket to the spa and they will give you a QR code to scan on your way out for free parking.
What to Take to the Mandara Spa at Disney's Dolphin
When walking into the beautiful Mandara Spa you'll be given a tour of the facilities and then the tour will end at the locker room. A locker will be assigned to you. In the locker are a comfy waffle knit robe and slippers (no need to bring flip-flops).
The locker room also has showers and a sauna. Bring a bathing suit if sauna use is desired.
The locker room also has a hairdryer and disposable combs and brushes. There is not nearly the amount of complimentary hygiene items that are typical at Disney's Senses Spa. Consider bringing hair spray, deodorant, touch-up makeup, hair ties, etc.
Mandara Spa Amenities
The breathtaking "tea garden" might just be the most zen spot at Disney World.
This is where some pre or post-service relaxation can happen. Enjoy a variety of hot teas or complimentary bottled water. The peach ginger tea is the best!
Fresh air, a calm breeze, and the warm sun can be enjoyed on the outdoor balcony with tables and chairs. The clamshell fountain is directly in front of the balcony with views of the friendship boats coming and going.
Snacks
The Mandara Spa does not offer the complimentary snacks that Disney's Senses Spa typically offers. If you tend to get the munchies, bring some snacks with you! A bonus perk is free mimosas or champagne. If the technician doesn't offer just ask for a drink.
Therapists
If your relaxing spa day includes a massage ask for Bill, you won't regret it. Bill is a seasoned therapist from the Bronx, New York. He makes custom recommendations and can accommodate almost any request. He was the best Disney Spa therapist that I've ever had. I typically do four massages per year at Disney. I've been with Bill twice in the last few months. When booking your reservation online choose his name from the drop-down.
Discounts at the Mandara Spa
In addition to the free parking the Mandara Spa at Disney World also offers a 20% discount for DVC (Disney Vacation Club) members. They also offer an additional discount if you book a second service for another day of your trip.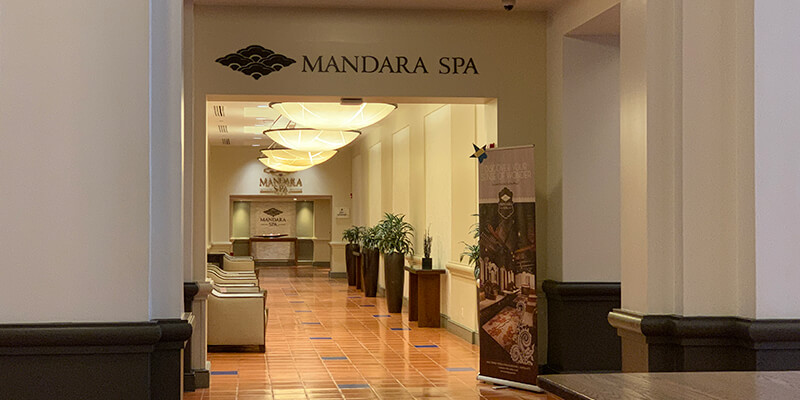 How Does it Compare to Disney's Senses Spa?
The Mandara Spa at Walt Disney Worlds Dolphin Hotel is comparable to the experience at Disney's Senses Spa.
Each has its pros and cons.
Biggest pros, atmosphere, atmosphere, atmosphere! When visiting this spa it's as if you're transported to another part of the world. The Zen relaxation areas are the perfect setting for rest and relaxation.
Cons, it's not Disney. Limited amenities and complimentary items. I miss the eucalyptus steam room at Disney and the spa/hot tub.
Overall the experience and self-care you'll experience at either spa are exceptional.
These Need to Know Before You Go will help ensure the best experience at Mandara Spa at Disney's Dolphin hotel.