As a woman visiting the Disney World parks, comfort is key! I know this personally because I visit the Parks 3 to 4 times every year.  Not to be dramatic, but sometimes what you choose to wear can impact your whole trip. Your apparel should be able to withstand a long day of walking and standing in the Florida heat. If you are wondering what to wear to Disney World, I got you covered! Here are some outfit ideas that can help you stay comfortable and stylish at Disney with some photos for inspiration:
Comfortable Shoes
This is number 1 for a reason. Wearing comfortable shoes is the absolute most important thing to consider (even if you don't typically get sore feet). Anyway that you slice it, there is a lot of walking involved with any vacation to Disney World.
Wear sneakers or walking shoes that are well broken-in to avoid blisters or sore feet. Personally, I've tried nearly every brand of shoes for our Disney trips and Skechers with memory foam always do the trick for me. Since these shoes are relatively inexpensive, I purchase a new pair leading up to almost every trip. The other trick is not wearing the same pair of shoes 2 days in a row. Your tired tootsies will thank you!
Also, avoid flip-flops or sandals, as they don't offer enough support or protection for your feet. If you are planning to take a backpack, maybe throw in a pair of flip-flops to slip on for wet rides or the very common afternoon Florida rainstorms.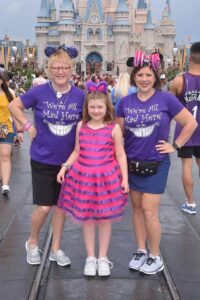 Breathable and Light Fabrics
Choose clothes made of lightweight and breathable fabrics, such as cotton or linen. There are a few important reasons why, like staying comfortable, cool, and dry in the Florida heat. The other reason your clothes will dry so much quicker if you happen to get wet. Remember, you can always layer!
Layering Options
The temperature at Disney World can fluctuate throughout the day, so it's always a good idea to bring a light jacket, cardigan or hoodie that can easily be tied around your waist or stored in a backpack. I typically like a jean jacket, that can be re-worn over and over throughout the trip or a solid color, thin zip up hoodie. The key is thin, because most likely you'll need to carry it with you all day. Solid colors are great too because they can be re-worn and clean up nicely.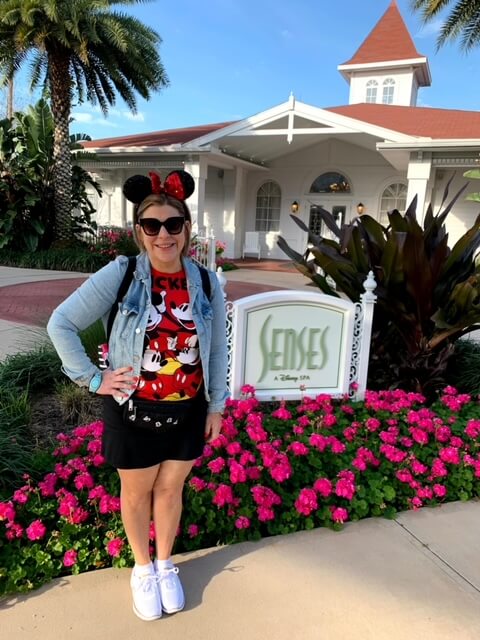 Hats and Sunglasses
Protect your skin and eyes from the sun with a hat and a pair of sunglasses.
Sunglasses
Listen, I will not even consider leaving my hotel room without sunglasses for a Disney vacation. Even if its not sunny when you leave the room, by mid-day the sun will certainly be shining. When picking sunglass go with function over fashion. Make sure they have enough tint to protect your eyes and keep for from squinting.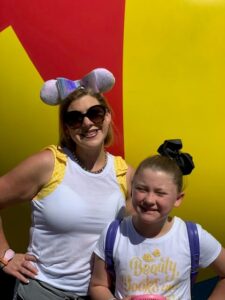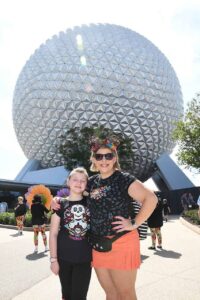 Hats
As far as hats go, until recently I wasn't the "hat type". During our last trip to Disney World, I forgot a hat for my five-year-old. After purchasing the overpriced hat at one of the Disney Gift Shops, my little guy decided that he was not the "hat type" either. I was determined not to let the money spent on said hat go to waste, so I wore it and soon after really loved it. I felt like the hat kept me cooler. Bonus points for it looking cute with my aviator shades.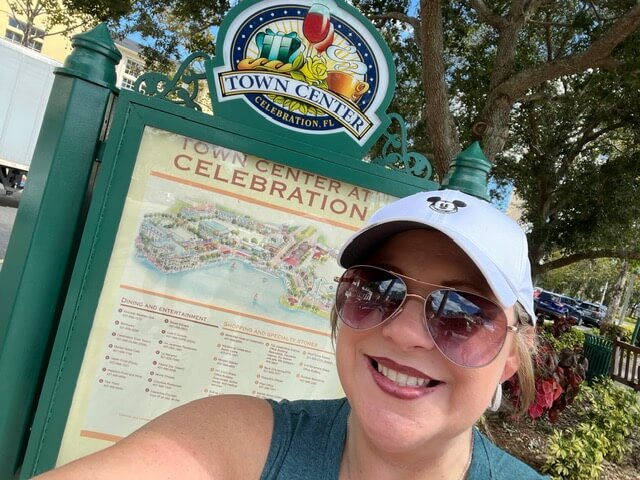 Bags
I have probably spent hundreds or even thousands of dollars trying to figure out the best bag to take to Disney. I really think at least one person in your party should carry a bag for things like sunscreen, water bottles, snacks, and phones.
Purses
Oftentimes, people recommend a small crossbody bag as a great choice for carrying essentials that won't weigh you down or get in your way. Personally, this is not for me. By the end of the night, the crossbody can feel heavy and cause neck and solder pain. You're at the most magical place in the world, who wants to be in pain? Not this girl. I also, absolutely recommend NOT taking a regular purse to the park. Remember, how I said earlier, that your outfit choices could ruin a whole day? This is one of those things.
Backpacks
If you decide to go the backpack route (which is a good decision) be selective with which bag you pick. A non-negotiable for me is the outside water bottle holders. It makes getting a drink of cold water SO much similar. If you have a family, that backpack will most likely be filled with jackets, ponchos, snacks, sunblock, autograph books and souvenirs. You certainly don't want to be digging around for water when someone in your party needs a drink.
Backpack/Purses
A backpack/purse in my book is a small backpack. Think about those cute Lounge Fly backpacks you see everyone sporting at Disney. These types of backpacks are perfect to keep all the essentials in except for your phone. There are so many times during a Disney vacation that you'll want to take a quick pic. Removing the backpack and then fumbling around in a backpack is not ideal. That inconvenience could cause you to miss a Magical moment. This is my latest favorite "park backpack". If you decide to go the small backpack route make sure to wear pants, shorts and skorts with pockets or get yourself a fun little fanny pack.
Fanny Packs
I'm not going to lie; I love a fanny pack. I've loved them for the parks even before they made a come back. I use mine for quick access to my phone, credit cards, sanitizer, and gum (FYI, Disney World does not sell gum in the park). My fanny pack is Disney brand and has 2 main pockets and 2 little pockets on the front (perfect for ibuprofen or anything else small). Now a popular option is a the fanny pack, crossbody combo. You'll see a lot of men and women going this route in the parks.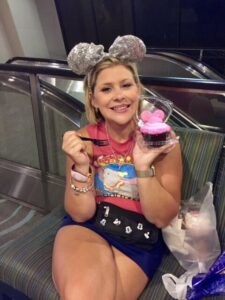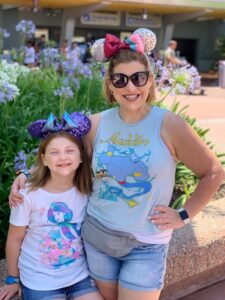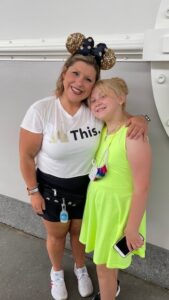 Disney-themed Clothes and Accessories 
Show your Disney spirit by wearing clothes with your favorite Disney characters or designs but be sure to choose comfortable and breathable options that are appropriate for the weather. Disney clothes are a MUST when deciding "What to Wear to Disney". I took this advice to the extreme with nearly a room full of Disney clothes. I have Disney apparel for all seasons, sizes and sexes. There is just something about wearing a Disney shirt with matching "Disney Ears" to the park.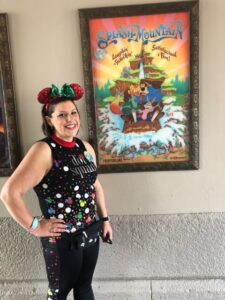 Disney Mickey Ear Headbands
I have a mild obsession with "ears" as well. I get a new pair nearly every trip. They are so fun and trendy. They can easily turn your Disney t-shirt into an outfit. Pro tip: the sequin ears that Disney sells in the park seem to be tighter and more scratchy than other options. If this is your first trip and you're looking to purchase a mickey ear headband, I highly suggest the class Minnie ears with the soft velvety headband. These ears are my go-to because they are comfy and versatile.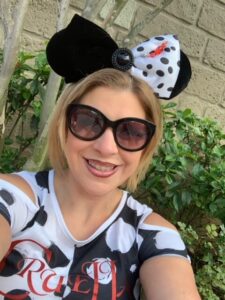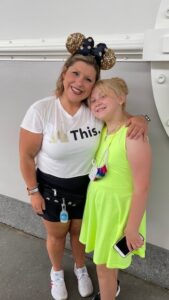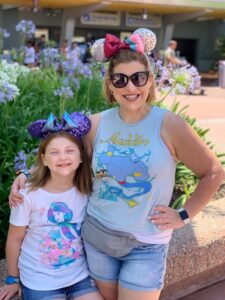 Pants and Shorts
I feel like I have to throw one last game changing "What to Wear to Disney" hack at you. Keep your bottoms simple! Personally, there is nothing like a black pair of leggings or leggings capris with pockets. These ones are my favorite. I own about a dozen pairs. During the summer months, if legging capris are still too hot, I go with soft, black biker shorts with pockets or black skorts. This simple tip makes getting ready SO much easier and faster. By going this route, you'll look cute and be comfortable all day at the park.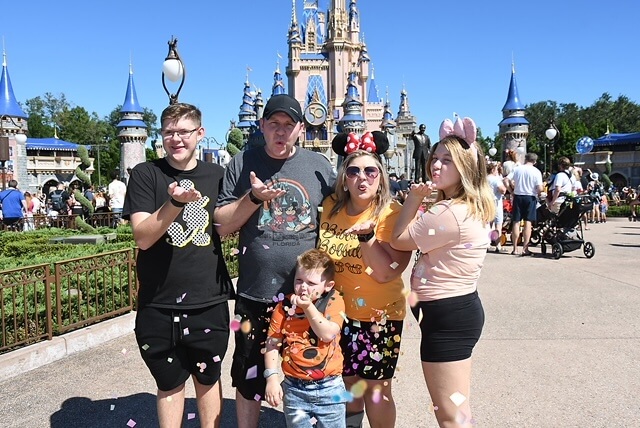 Overall What to Wear to Disney
Overall, when choosing what to wear to Disney World, the key is to prioritize comfort and practicality, while still looking and feeling great! Choose things that can be worn multiple times throughout the trip, opt for light fabrics and invest in good shoes. Most importantly, pick outfits that you won't need to think about so you can focus your energy on having the best day ever!