Are you thinking of treating yourself to a day of relaxation at the Grand Floridian Spa in Disney World? I live for Disney Spa's so let me give you the lowdown on what to expect.
I tend to visit the Disney Spa's at the Grand Florian and the Mandara Spa at the Swan and Dolphin 3-4 times every year. I'm going to tell you what you should know about the Grand Floridian Spa in 2023, because a lot changed since the pandemic.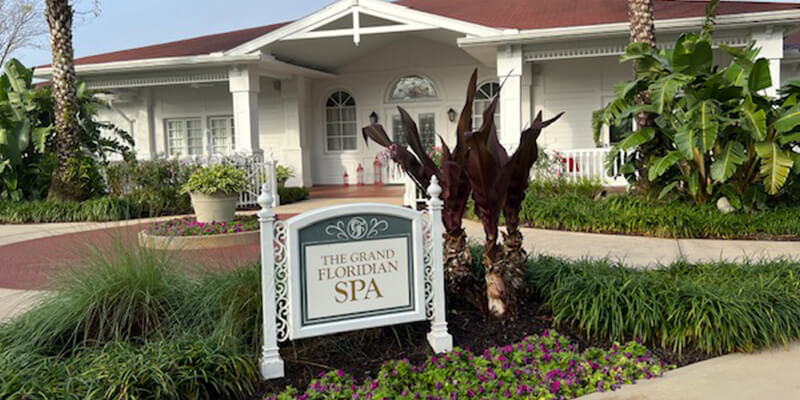 Amenities at Grand Floridian Resort & Spa
The Senses Spa is located at the Grand Floridian Resort & Spa. It offers offers a relaxing atmosphere with special amenities that the Mandara Spa does not have.
This spa asks that you arrive 30 minutes prior to any service. When you enter the building you'll be welcomed and asked to sign a waiver.
This time they asked if I was staying at a Grand Florian, then if I was staying on a Disney property and finally if I was a DVC member.
The attendant then presented a platter of raw crystals and asked me to select one to take with me throughout my journey. I choose amethyst.
Quickly after selecting my stone she asked that I put it in the a Zen Garden. I was then taken to the lounge/ relaxation room area. This area is one of the best parts of the spa experience.
Treatments at Grand Floridian Spa
Now, onto the treatments. If you are considering visiting the Senses Spa, the service menu is very different than it was pre-pandemic. They no longer offer things like deep tissue massages or even the use of steam during a facial. Make sure you read the descriptions of your service before booking.
This trip I opted for the Grand Pedicure which is 50 minutes long. With all that Disney walking, can you blame me?
Side note, if you are a Disney Vacation Club member, the spa is no longer offering a DVC discount, however they are offering select add on services for members.
Visiting the Grand Floridian Spa isn't just about the treatments themselves – it's about the entire experience. This is something that this spa does right.
After signing in, you'll be taken to the Relaxation Room where you'll be assigned a locker and given a plush robe, sandals and be assigned a locker.
The locker room includes showers, private bathrooms, hair dryer and any incidentals you made need. The relaxation room also some light snacks, water and tea that you can enjoy before or after your service.
Take Advantage of Sense's Spa Amenities
In my opinion the best part about this spa is that you can take advantage of the spa's amenities, including a steam room, whirlpool and warm marble lounge chairs to enhance your experience. So don't forget your swimwear!
So, there you have it – everything you need to know before visiting the Grand Floridian Spa at Disney World.
Get ready for a day of pampering and relaxation that you won't soon forget!